RMH Modena Des Arts is a 4-star hotel and conference centre in Modena,
at the heart of the Emilia region
A 4-star hotel in Modena,
the city of flavour, sports cars and song
At the centre of the province of Modena, where art is expressed through history, culture, cuisine and design, lies an architectural masterpiece, carefully planned down to the smallest detail to satisfy the needs of every traveller who wants to discover the music itineraries and UNESCO sites of Modena, a harmony of flavours intermingled with the fragrance of balsamic vinegar, the land of engines, from Maranello to Lamborghini, with Ducati along the way.
RMH Modena Des Arts encompasses all of this wealth and design and these fragrances. The hotel itself reflects the close bond with a place where time passes slowly or quickly, or at whatever speed the guest wants to give to their stay. A stay at the hotel is designed around the guest, to guarantee them a sense of rediscovered well-being that starts at check-in and continues in a room meticulously designed down to the last detail, in a perfectly organised work setting or even in a menu replete with the flavours of local cuisine.
Nothing is left to chance, to ensure that the stay becomes the gateway to discovery of a land where you can enjoy a well-earned holiday, but also work and run a business.
RMH Modena Des Arts is the place where leisure and business come together.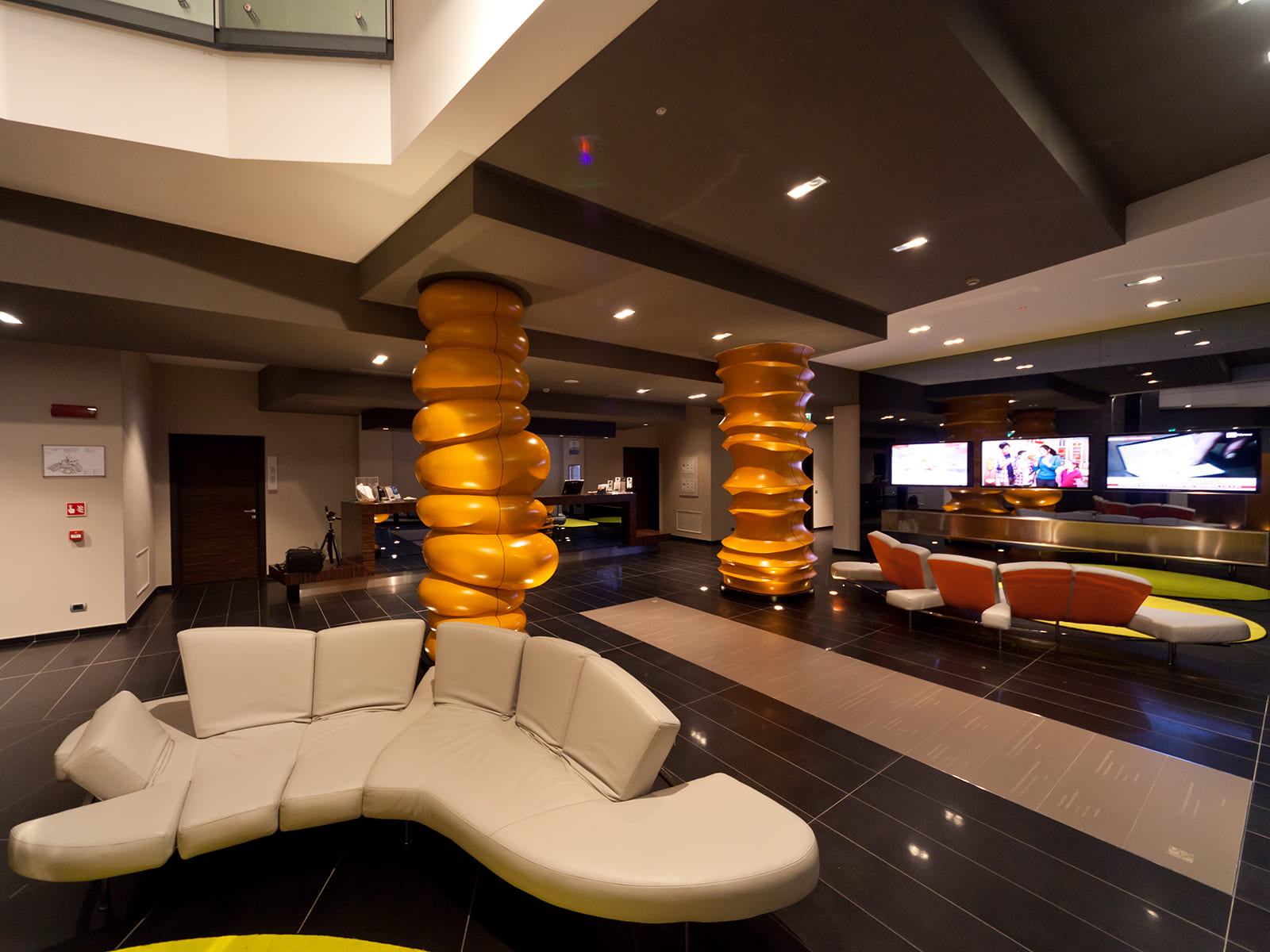 The 'Anthropomorphic' Columns a genuine
work of art
Each pillar of RMH Modena Des Arts has been designed as a sculpture symbolising one of the guests of the hotel. "Welcome back attorney", "Hello Teacher" and "Contemplating a Negroni cocktail" are just several of the anthropomorphic sculptures that become an everyday encounter for the hotel guests and staff.
The project of the architects at Studi Colombi envisions the hotel as a museum, a permanent exhibition where the art is the structure itself, to be enjoyed at any time, without ever sacrificing comfort.

Hotel close to Modena city centre
Discovering Modena and the Emilia region
RMH Modena Des Arts is located just outside Modena city centre, near the Baggiovara Civic Hospital, the ideal starting point for a journey of discovery of the hinterland around Modena and extremely handy for travelling to Reggio Emilia and Bologna. It is the optimal solution for both holidaymakers coming to visit the area and for business travellers.
Its position offers guests the option of discovering a rich and varied art and culture, to be found in historic homes and medieval castles, a land of gastronomic delights and the thrill of the world's most famous sports cars, such as Ferrari and Maserati.
Ideal for meetings and working lunches
With large areas for meetings, comfortable, 
rooms and suites
parking always available (free and indoor), a restaurant for social occasions and working lunches and dinners, RMH Modena Des Arts is the ideal "home away from home", as a business destination and a location for making the best deals.
It is a perfect starting point for visiting Modena, Reggio Emilia and Bologna, within easy reach of the main production zones of the area and just a short distance from Bologna airport. The warm welcome, professionalism and meticulous attention to detail are all features that ensure the success of every event and meeting for your business.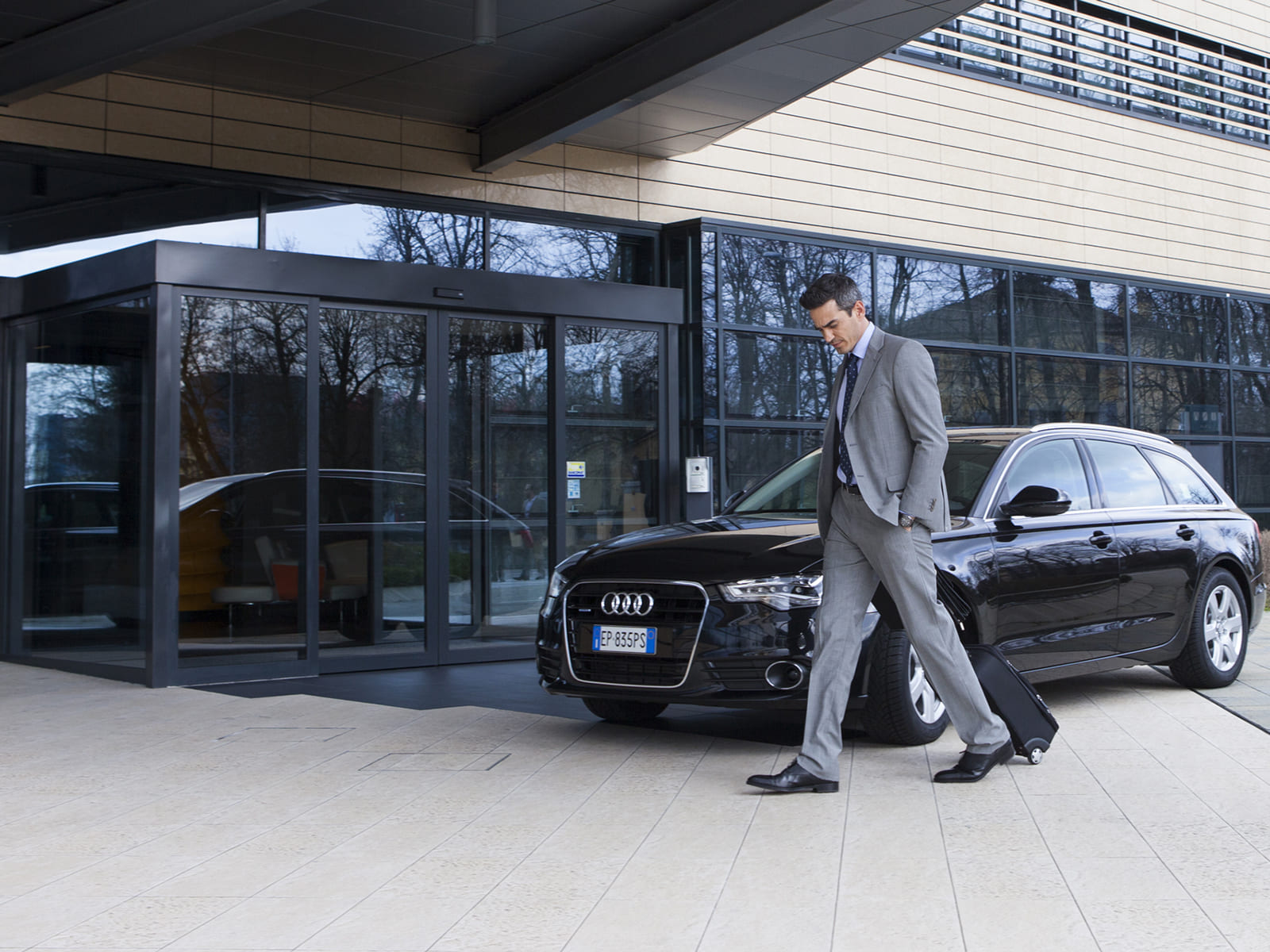 Hotel with transfer service to Modena
Exclusive cars and highly experienced drivers
We offer a service with exclusive cars and highly experienced drivers for all your travel to and from the airport and in the entire area, optimising your transfer times and allowing you to focus on the business at hand.
We know that time is precious and the RMH Modena Des Arts service will allow you to reach your destination without needing to worry about anything other than attending your meeting or event or taking your flight.

Hotel with parking in Modena
A car park, also covered, for every event
RMH Modena Des Arts has a car park with spaces for over 80 vehicles, of which 30 are covered by a tensile structure and can be booked.
The car park has video surveillance and access is remote-controlled, with automatic opening. The car park can also be used for parking 54-seater coaches, given that the hotel is also a conference centre.
JOIN THE EXCLUSIVE CLUB
Subscribe to the Newsletter to receive information, news and proposals reserved for you.
RMH Modena Des Arts, business e leisure hotel a Modena.